The team at Boston Dynamics keep taking things to another level with their robotic technology.
Dogs are fairly intelligent and terribly cute creatures, and of course, are well-known to bark at just about anything that seems out of the ordinary. So when you see this dog named Fido losing its mind over another four-legged entity, you would probably think this was canine rivalry at play.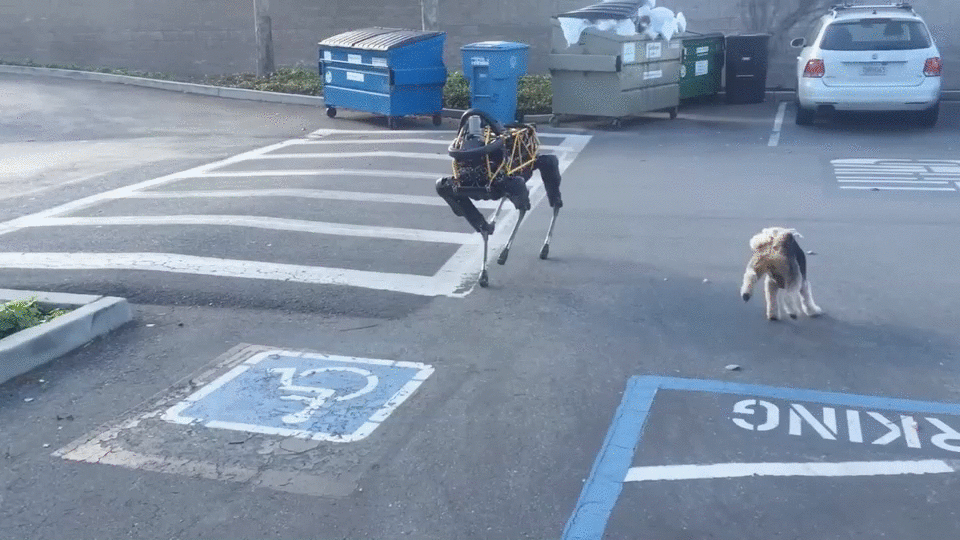 Well, that's only until you realize that Fido's barking at a 160-pound robot that may move and act like a dog when prodded by its tech handlers, but surely doesn't look like one. It wasn't any wonder that Fido was confused!
See Spot Run — Dog vs. Robot. Video: https://t.co/hbDDV62h2G More: https://t.co/alPUdtW1Ow pic.twitter.com/SGo1L1dEOa

— Steve Jurvetson (@dfjsteve) February 29, 2016
Aptly named Spot by its developers at Boston Dynamics, this four-legged robot is electrically powered and can accomplish various tasks including jogging, walking on uneven ground and even climbing stairs.
This isn't the first time that Spot or one of its sibling versions – read similar robots – have made news on the internet. The holiday season that just went by saw Boston Dynamics boast of their robots' versatility by stimulating three of their kind into taking on the role of reindeer. Their handlers even had these unique reindeer pull a sled with a decked up Santa in it!
Well, it may sound like fun and games all the way, but robotics is a multi million dollar business and many believe, the most popular and profitable tech segment of the future.
Of course, the animal kingdom as well as humans will only have to get used to these scraggly creatures taking over the streets sometime, and that day may be sooner than we think!