Not exactly what any parent really wants to hear, but apparently there's even more uses for Nutella, but this one may make you think twice before ingesting it.
If you follow us at all you'll know that we're big fans of Taras Kulakov, aka the "Crazy Russian Hacker," and all of his antics and again he doesn't dissapoint us. After enlightening us on the innovative uses of a commonplace fork, Kulakov is now showing us that Nutella – the popular hazelnut spread – is not only good when eaten by the spoonful, on toast or with ice cream, but also turns out to be a good tool to have if you are ever short on fire starting materials.
Kulakov displays his ingenious way of starting a fire by mixing a little potassium permanganate (basically a salt with ions that are oxidizeabel in it..look we're not the scientists here… just keep reading.) with Nutella in a ratio of roughly 1:4, which will bring out a sticky substance and this sticky substance is an absolutely brilliant way of helping starta fire as it lights up easily and burns intensely.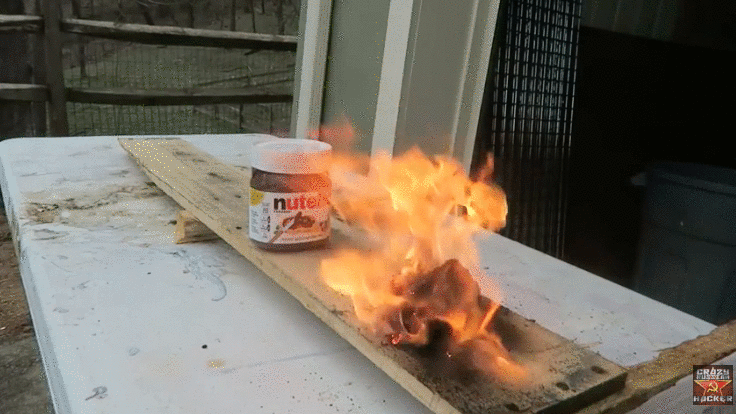 Before you start ranting about storing or carrying potassium permanganate and Nutella for emergencies just remember that potassium permanganate is a useful disinfectant and sterilizer, while Nutella is an all time delicacy. For that reason, Kulakov recommends storing these two somewhere close by in case of emergency, or if carry it with you if you're a Boy Scout.