This is the probably the toughest ATV in the world.
Driving in adverse environments and conditions such as in the Russian Siberian wilderness may be one of the most exasperating and chaotic activities you will probably ever encounter in your entire life. Under such conditions, you are highly likely to come across all sorts of weather and objects that will turn the whole adventure nightmarish. From snow, mud, ice, dirt, logs, mountains to rocks, such terrains are always hellish and would be better tackled with an All Terrain Vehicle (ATV). And from the looks of things, this vehicle with extremely big wheels can utterly dominate any rugged environment that is presented before it.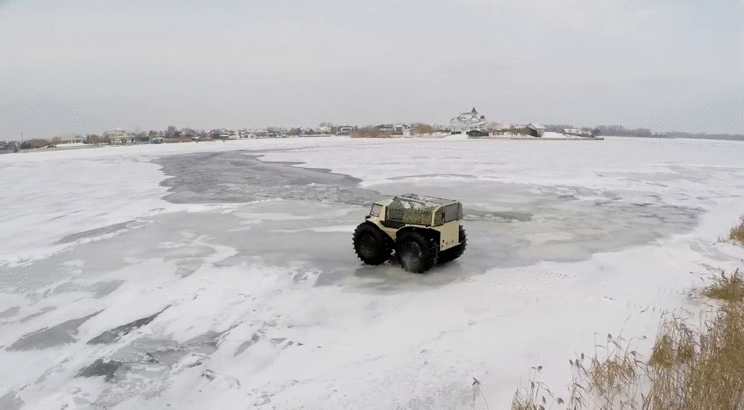 Known as Sherp ATV, this is a Russian mini-monster all-terrain vehicle that can perfectly dominate and drive on and over any environment be it ice, snow, water, logs or rocks. With its extremely bizarre big wheels, Sherp can never be challenged by just about any terrain. Its mammoth tires are buoyant and self-inflating with paddle-like treads, which perfectly propels it over terrains and obstacles that are more than 27.5 inches tall. The tires measure 63 inches in diameter and are positioned to capitalize on the space that the truck's frame allows so as to move over any obstacle on its way.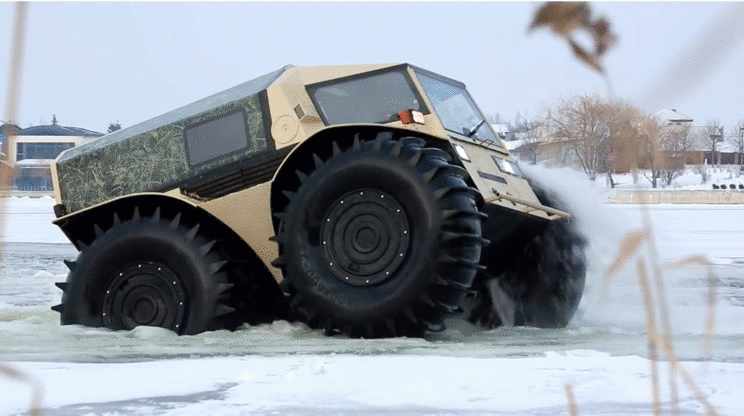 This little monster is the brain child of a Saint Petersburg-based mechanic, Alexei Garagashyan, who has added incredible buoyant features and components to the vehicle to enable it go over water, ice and snow. As an ultimate off-road ATV, Sherp has an indestructible 15.3 gallon, 44 Horse Power diesel engine that can propel it at a speed of 27.9 mph on land and 3.7 mph on water. On the inside, Sherp has skid-steer system that makes it very easy to turn. It can also drain water from the inside when it is treading on water.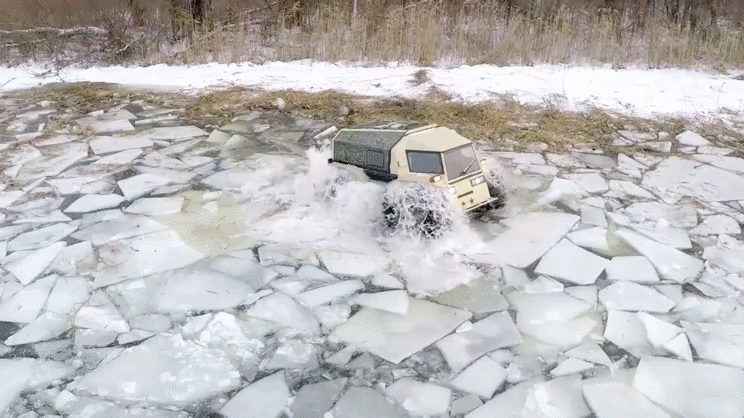 This two-passenger mini truck weighs 2,866 pounds with an 11-feet length, making it lighter than a sedan. It is also equipped with halogen headlights, a water heater and analog devices that are perfect for extreme environments. Sherp comes in two models that are all expensive. The standard model costs $65,000 and has a tent-like roof with no heater or wipers. The second model, known as Kung Sherp, starts at $70,000 and has all the features that are missing on the standard model including a hardtop roof.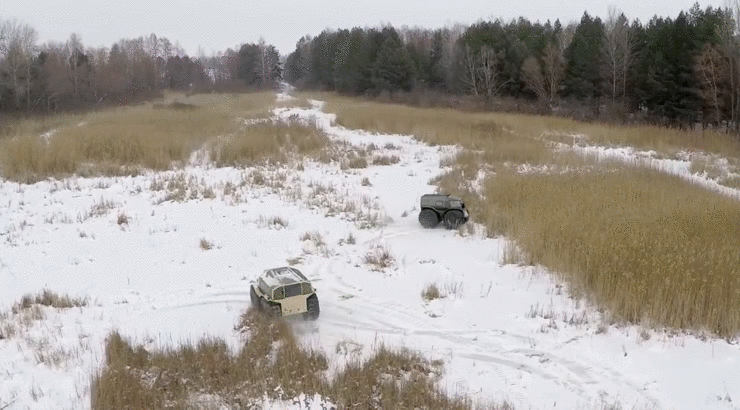 Check out this video of Sherp ATV in action and you will admit that it can take you to places on Earth where man has never set foot on such as the farthest corners of the Siberian Tundra.