Popular trend puts the Bar back in BAthRoom.  
It's been a long day…or maybe it hasn't…it's hot outside…or maybe it isn't…whatever the circumstances, you feel like enjoying an ice cold beer…while having your shower.  You're not the only one, by far, who has felt this way and went with it…yes, the popular 'shower beer' is alive and well, and growing in popularity.  The reason??  Have to admit, we have no idea, but a few theories probably include the fact that at first thought it seems so wrong (how mischievous), it is a bit of a guilty pleasure, an indulgence of sorts (why not?), and if you have kids, the shower might be the only place you're left alone.
The premise actually fits right in with the whole multi-purpose, multi-tasking, multi-use trend – if your dining room can transform into your office, your bedroom into your den, why can't your bathroom turn into your private bar?
The shower beer craze has been getting a lot of traction on Reddit, with users posting photos of themselves with their favorite brew in the shower – and one user commenting he was getting "shower drunk'.  Just so you don't have to use your imagination, here's a couple that caught our eye:
While in the shower, we assume that the regular shower activity will also take place, so when your hands are busy where does your beer go?  Well, enterprising souls have developed shower beer accessories to keep your brew out of harm's way – here's a few that caught our eye:
Sudsy, is adjustable to hold cans or bottles.  Great design, caddy/holder hybrid, in spanky rebellious red. What's not to love.
Here's the handy dandy Sip Caddy – and not only does it hold your beer and come in a variety of colors, it also cradles your stemmed wineglass while you're in the tub or shower – so you can drink pretty much every where you want in the bathroom.
See???
Next up, the showy Shower Beer Buddy nestles your beer in, well, cleavage.  Their cheeky website comes complete with a video tutorial and FAQ section:
The Shakoolie goes one step further by holding your beer and keeping it cold (if it actually lasts that long).  Bonus is that there is a variety of funny covers to choose from, here's a sampling:
We unearthed this 3D printed wine/beer holder on Etsy: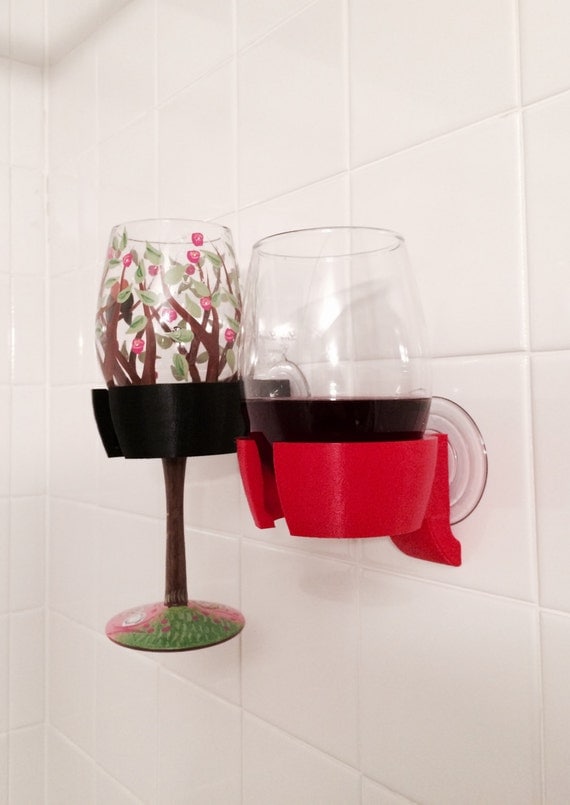 The 3D printed version below, also on Etsy, comes in great colors – and as you can see, you can buy more than one holder in case you want to bring in extra beer (or an extra person) for that long shower..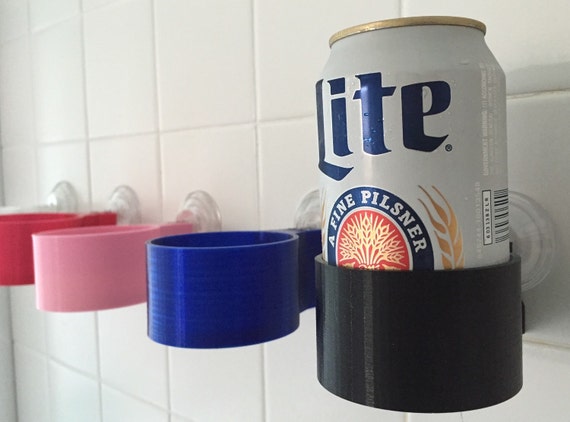 For those who want to go all out in celebration of the shower beer, we found a shower curtain to complete the ensemble:
If you're wanting to try out the shower beer a few times before investing in any accessories, remember there's your regular shower caddy…just move over a couple of things to make room:
Next thing you know, you'll have to bring in a snack tray!  Well, maybe a pizza holder….