Lighters have been evolving since they hit the scene almost 200 years ago.
We didn't realize lighters had been around that long! According to Collectors Weekly, the lighter was first invented in 1823, and they were commonly carried as much as wallets by the early twentieth century. Lighters adopted style and more functionality in the early 1920's with the advent of the semi-automatic lighter: the user would flip open the lid, simultaneously spinning the flint wheel and igniting the wick. Louis Aronson, the founder of Ronson lighters, invented the automatic lighter in 1926, enabling users to light the flame with the push of a button. In the 1930's, with a view to appealing to female users, lighter styles were adapted to include decorative details, and combined them with items such as compacts and cigarette cases. Also in the 1930's, the famous lighter manufacturer, Zippo, was founded, and their windproof lighter became standard issue for soldiers during World War II. Since then, Zippo has manufactured over 500 million units.
Obviously there has been much change in the appearance, design and function over the almost 200 years since lighters were invented, making them an interesting collectible whether it be for the vintage fan or those who are drawn to the new designs and technology available. Today's lighters include electric options that are windproof and have the capacity to be charged via USB.
Lighter collectors and enthusiasts alike frequent online lighter clubs and groups  for information and access to items currently for sale or wanted for purchase.  Collectors also use these mediums to draw on the knowledge of others for assistance in identifying certain pieces or information about a piece they own but have questions about – helpful members can fill in the blanks.  Trade shows are also popular, featuring collectibles from famous brands Ronson, Zippo, Dunhill, Evans and Scripto among others.   Here's a little history behind two of the iconic brands, Ronson and Zippo.
While Louis V. Aronson, founder of Ronson, is known for inventing the automatic lighter in 1926, his company, The Art Metal Works Company, was actually incorporated in 1898, and originally produced quality home decor items such as lamps and statues, evolving to also manufacture hood ornaments in the early 1900's.
Throughout this time, Aronson also continued his work on the development of safety matches, inventing the "non-toxic match" and the "all-weather match", and he was granted a patent for the "wind match" in 1897.  Aronson also received a prize for inventing the first phosphorus free match – this pivotal elimination of phosphorus in the match manufacturing process meant no longer exposing workers to the occupational hazard known as 'phossy jaw' – a painful and often fatal phosphorus necrosis of the jaw caused by unsafe exposure to phosphorus.
In the early 1900's, Ronson Art Metal Works produced early versions of striker lighters – in which a spark was created by striking metal against a flint and igniting an asbestos wick – such as the Pist-O-Liter in 1910, followed by the Wonderlite in 1913.
In 1926 Aronson received an exclusive patent for inventing the single-action "Banjo lighter" – the first automatic lighter, marketing it with the slogan, "a flip – and it's lit, release – and it's out", and went on to incorporate the technology into a line of hand-held and table-top lighters: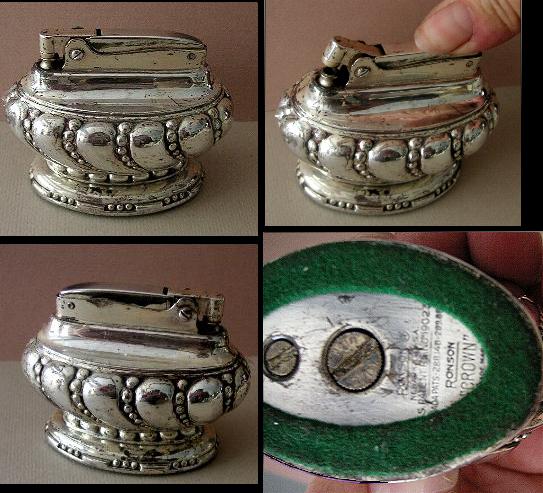 Many of Ronson's designs were incorporated the company's home decor pieces, reflecting the Art-Deco style, and employing their revolutionary 'touch tip' technology as seen here:
Ronson extended the Art Deco aesthetic into the popular cigarette case and lighter combo design: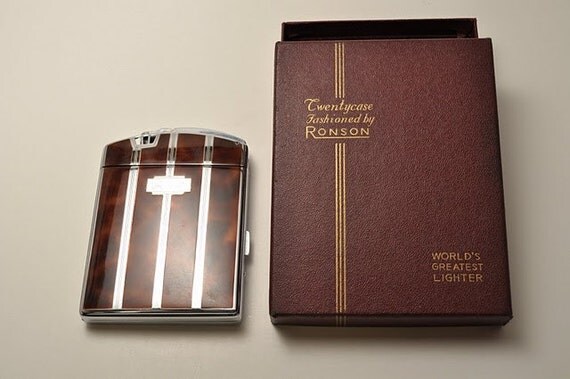 The following is an example of how Ronson integrated lighters with their hood ornament designs:
In 1934, Ronson patented the Penciliter as the first combination wick lighter and mechanical pencil, and it was manufactured from 1935 until 1948:
Ronson continued to update styles as time went on, also incorporating butane as the new fuel for their Varaflame lighters, introduced in the 1950's: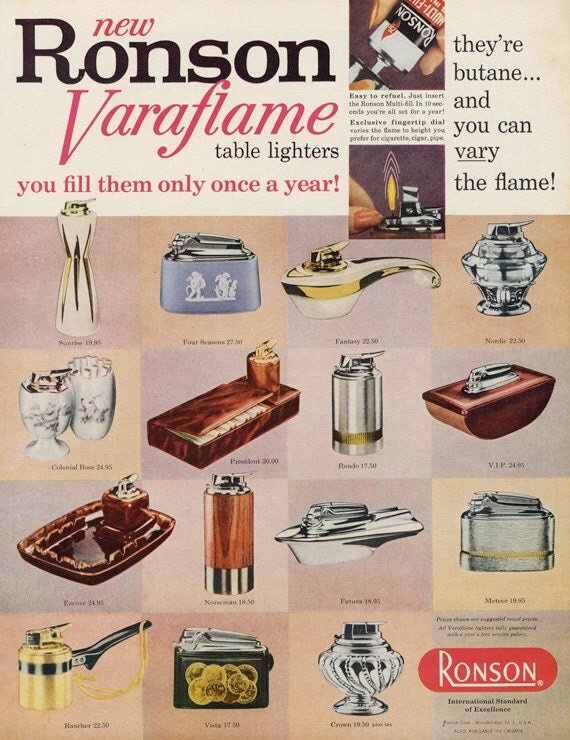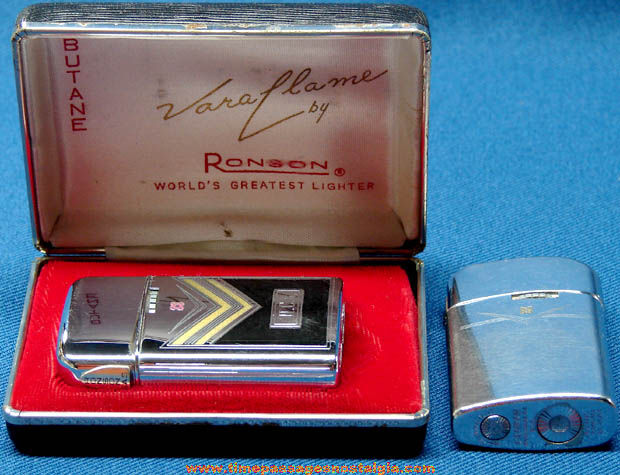 The Ronson Varatronic Peizo-Electric.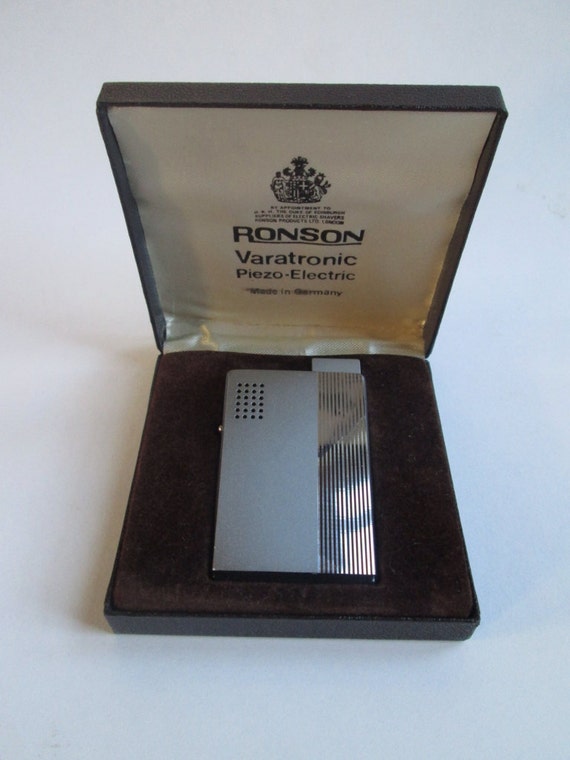 Throughout the following decades, Ronson continued to develop lighters and accessories. In 2010, Ronson sold the rights to their lighters and lighter fluid products in Canada, USA and Mexico to Zippo, who continue to manufacture and promote the Ronson brand.
American George G. Blaisdell founded Zippo Manufacturing Company in 1932 and produced their first lighter in the following year.  Blaisdell's impetus to design and manufacture lighters came after witnessing a friend operate an awkward Austrian-made version – in his opinion, while the lighter ultimately functioned well by staying lit in the wind, its downfall was that it required two hands to operate and was easily damaged.  To address the deficiencies, Blaisdell modified the unit to fit within a rectangular case with a hinged cover, while retaining the functional chimney design to protect the flame from wind.
From the onset, Zippo lighters were backed by Blaisdell's unconditional lifetime guarantee – "It works or we fix it free™." Blaisdell was granted the patent for his original design in 1936, with a second patent granted in 1950.   The Zippo lighter design has remained basically the same as the original, with only minor improvements through the years.
The following Zippo lighter, produced as a 500 unit order in the 1930's, was customized for Kendall Refining Company, and is believed to be the first company-advertised lighter made by Zippo.  Subsequent to that order, lighters became a popular medium for companies to advertise to clients and continue to be popular for collectors.
At the onset of WWII in 1939, Zippo dedicated its manufacturing exclusively for soldiers in the US military, producing steel-case lighters with a black crackle finish for millions of military.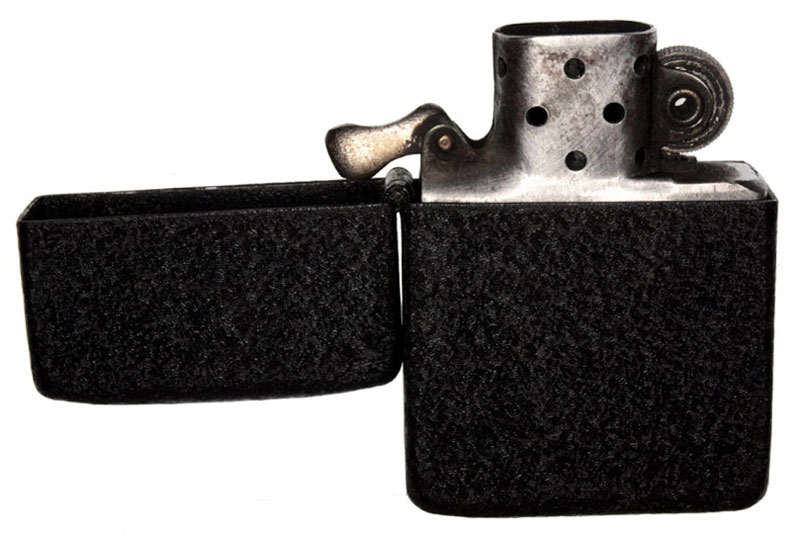 In the 1950's, date codes were stamped on the bottom of each Zippo, and while they were intended for quality control and warranty purposes, they now serve as a valuable reference for collectors.
The post-war era brought about a renewed resurgence in demand for the use of lighters as a popular advertising medium, with some of the early surface customization completed by hand.  Advertiser-customized lighters have since become popular as collectibles.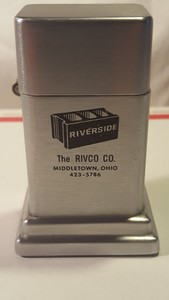 In 1956, Zippo launched the 'Slim' model to appeal to women
Over the years, Zippo lighters have also been adorned in Hollywood and on Broadway, having been featured in over 1,500 movies, plays and TV shows, influencing customization and collections to reflect this popularity:
Zippo continues to manufacture lighters, and estimates there are four million collectors in the USA alone.  Their lighters continue to be backed by their lifetime guarantee.
Whether vintage or new technology, there's something for everyone, and at every price point. Here are a few fun, vintage and unique offerings from various manufacturers:
These are so out of the box…cuff-links that are also lighters? They come in leather or chrome, and hopefully, safety instructions.
This has Mad Men written all over it…
Classic Playboy
This electric lighter is windproof and charges by USB
Fun lighters that make flame with a flip of the top.
We found these cool vintage lighters on eBay:
The number of lighters available online is huge, even in the vintage category alone. To see more vintage lighters currently up for auction visit eBay, or the Collectors Weekly website.
Article updated on October 12, 2016