This artists use of chalk, in a 3D format, to replicate the iconic game of Street Fighters is totally rad.
Chris Carlson is one of the most influential artists on the web today, with range of talents that help him put life into simple art through 3D imagery. Surprisingly, while paints are usually an artist's medium of choice, Carlson's choice is the humble chalk, but boy does he rock every bit of the black canvas with chalk. Of course, one look at the 3D illustrations that Carlson creates with the help of just chalk against a dark background will tell you that the medium turns into a magical one under this artist's talented hands and mind.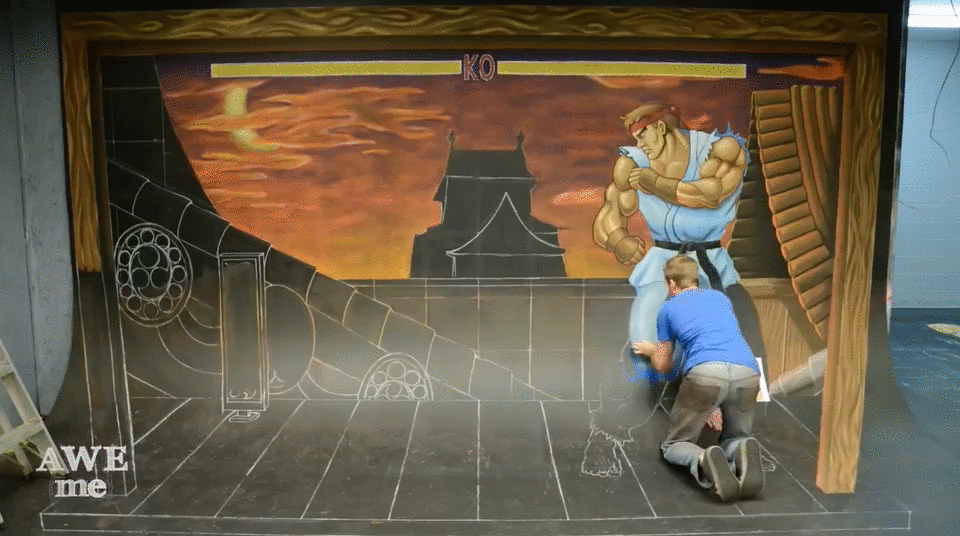 The latest from his long, and really impressive, lineup of creations is a chalkboard work that has Ryu, the powerful fighter in the Street Fighter series of games, against the exact background you see in the game. Then you have Carlson fighting right alongside him, and even gets his ass kicked by the champion street fighter!
The curved canvas at the bottom of the image is what allows Carlson to get into the frame with Ryu, giving the viewer the illusion that the two are indeed battling it out in Street Fighter.
Based out of Denver, Colorado, Carlson offers his 3D chalk imagery services too all those individuals and brands who wish to run unique campaigns, and the way Carlson's work goes viral, we are sure that hiring him would be a great move for anyone!